William Reynolds (1758-1803)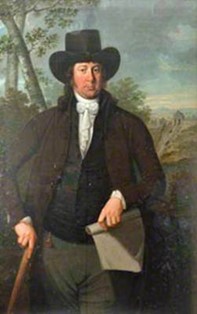 William Reynolds was the most versatile and talented of all the Shropshire ironmasters. Hewas the son of Richard Reynolds and was a partner in the Coalbrookdale Company until 1796 when the Darby-Reynolds partnership was dissolved. As well as iron making, Reynolds' business interests included a china works at Coalport, an alkali works at Wombridge, the Wrockwardine Wood glassworks, and the development of Coalport New Town.
He surveyed the route and oversaw the construction of the Shropshire Canal. The most important innovation in its construction was the use of inclined planes to transport boats from one level of water to another. He also oversaw the manufacture of the world's first cast iron canal aqueduct at Longdon-on-Tern.